As the 2023 Nigerian general elections draws nearer, allot of Nigerians have already started to consider who will be the best candidate for president in 2023. The search for someone who could bring a balance to the present condition of the nation is currently on. 
Allot has been said already about zoning and allot of prominent men who have presidential ambitions, have recently kicked against zoning and opted for equal opportunity to be given to every one to run for the presidency.
So far, all eyes have been on the political Giants like chief Bola Ahmed Tinubu who is the national Leader of the all progressive Congress,
Great men have shown interest in the presidential race come 2023. And even though we have almost three years to this time, there are already underground movements by these aspirants to put things in place before the time comes.
Although nothing much have been going on concerning the 2023 race but it is almost certain that Nigeria might not be considering a president from the north because president Mohammedu Buhari has just had two terms and is currently in the second term. However there is a man from the north that has not been talked about and might not be in the spotlight, but cannot be ruled out if brought to the table.
A man who has won the heart of many by his selflessness, love for the people, his determination and courage, one who is assumed to be the most troubled present governor with issues to deal with and strong decisions to make a daily basis. One man who arguably faces more challenges than any other present governor right now, his name is Professor Babagana Umara Zulum, present governor of Borno state ( a state being terrorized by the deadly Boko Haram sect). 
Remember I said Nigerians may not want another president from the north in 2023 but this man has not said anything about the 2023 presidential Elections as we know he might not be interested in running that race, but he is one man who has won the heart of many through his achievements and courage.
Here is why I think professor Zulum would not be rejected by anyone.
His Biography
Professor Babagana Umaru Zulum was born on the 25th day of August 1969 (aged 51), in mafa local government area of Borno state which makes him a son of the soil.
After elementary schooling in Mafa Primary School from 1975 to 1980 and secondary education in Government Secondary School, Monguno from 1980 to 1985, he studied at the University of Maiduguri, where he obtained a degree in Agricultural Engineering after which he served as a youth corps member with Katsina State Polytechnic.
He proceeded to the university of Ibadan from 1997 to 1998, where he obtained a master's degree in Agriculture Engineering. In 2005, he enrolled for a PhD in Soil and Water Engineering with the university of Maiduguri which he completed in 2009.
All records shows that professor Zulum had arguably not left the country for any of his degrees anywhere but has fully participated and benefited from what is obtainable in the country.
His career
Professor Babagana Umara Zulum has actually had a promising career which most of it again, is in and around his state of origin.
He was appointed the assistant technical officer in Borno state ministry of agriculture in 1989 with the state civil service, He then moved in 1990 into the Borno state unified local government service as senior field overseer.
He has served as the principal water engineer (in the year 2000), assistant lecturer in the university of Maiduguri, Dean, faculty of engineering same university, rector of Rahmat polytechnic, commissioner of reconstruction, rehabilitation and resettlement, a position he held until he became the governor of Borno state in 2019.
Political Prowess
Because of governor zulum's enthusiasm and selfless act in service and the impact he has made with the little positions he has held in his career, it was not difficult for him to become the flag bearer of the all progressive Congress where he won the primaries on the 1st day of October 2018 and later won the election as the present governor of Borno state.
His Achievements So Far
Although one might be forced to ask the question of what anyone could possibly do as a governor in a state like Borno state where there is completely a constant struggle with insurgency, but here are some of the things this governor have achieved in the face of this sad realities in the state.
A state where there is always one destruction by the Boko Haram insurgence or the other, the governor professor Babagana Zulum has worked wonders and is still doing great as it is evident this is a man who has the plight of the people first before anything else.
No wonder in his 100 days in office which was celebrated with allot of other leaders left in a state of surprise and admiration for such passion and achievements in just 365 days. 
In just 365 days, the number one man in Borno state, professor Zulum had undertook 375 projects of which 326 are physical projects with the remaining 29 are capital-intensive programs and policies.
A whopping 375 projects in 365 days, this means that he undertook averagely, one project everyday. For such a remarkable exploit, who wouldn't love governor Zulum of Borno state?
A governor who has made giant strides to tackle the security challenges in his state and one so courageous to go to any part of the state no matter how risky it might be.
He has been tagged with the name, the "workaholic Governor"
Governor Zulum has shown great courage and enthusiasm in his vision to end the current insecurity in his state as despite several attempts on his life, the iron Man governor has not stopped his visit to every part of the state whenever there is a need to.
Here are a couple of times he has escaped death in carrying out his duties
Professor Zulum has been a target of several failed assassination attack by the notorious Boko Haram sect.
On 29th day of July, his convoy was attacked on Maiduguri-Damaturu highway by Boko Haram insurgents. Five people died that day of which three were police men.
On November 26th 2020, again the governor's convoy was attacked by Boko Haram insurgents near lake Chad. It was reported that at least 18 people were killed that day. A total of 14 security personnel (Nigerian police officers and soldiers) and 4 civilians. The death toll was updated later to 30 as more bodies were found after the incident.
But this would not in anyway deter a man with courage and determination.
On the 29th day of November, barely three days after the last attempt on the governor's life, there was another attack. His convoy had seen a donkey on the road and his security team shot at the donkey which later exploded. After wards, insurgent Boko Haram sect came out of the bush where they had been hiding.
A great victory was recorded that day as it was reported that no security personnel in the governor's convoy died or was injured, but a number of insurgents were killed.
A man who is not passionate about his people would not be up and doing after such clear attempts on his life has failed severally. He has gained so much love and respect for himself by Nigerians all over because of these wonderful times he has shown great courage and passion for his work as the governor of Borno state.
A governor who sets the pace for every worker in the state. One who loves hard work and rewards hardworking people. 
One of such times he thrilled the public was when he visited a school in the state in February 2020. Where he arrived at the school premises by 6:30 am and met one of the teachers "madam Obiageli" present. She was promoted from being a class teacher to the post of the assistant headmistress by the governor himself.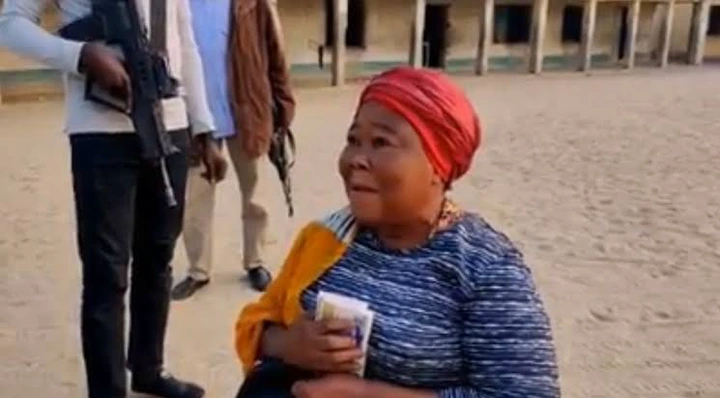 The governor has shown very remarkable leadership qualities and shares great concern and closeness to his people on different occasions.
One of such occasions was the recent slaughtering of the reported 43 farmers who were attacked in the farm by Boko Haram insurance in the state.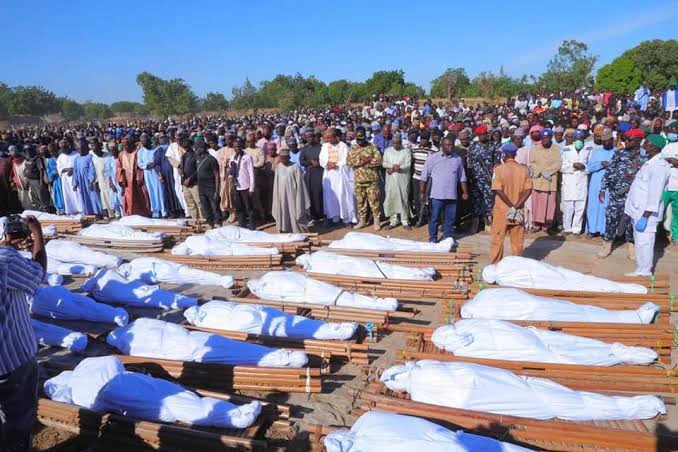 The governor reportedly got to the scene of this attack immediately news about this got to him. You could see the pain in his face while the fatia (a prayer during the Islamic burial right) prayers and burial rights of these farmers was taking place.
The governor in white trying to help carry a corpse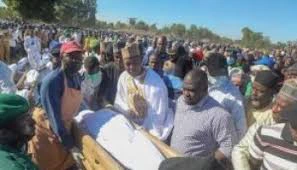 Nobody is saying money can make up for life lost, but the governor compensated the families of these rice farmers who were slain with six hundred thousand naira each (600000).
Governor Babagana Zulum is a rare gem and a blessing not just to the people of Borno State, but to all Nigerians as a whole. A man who understands the common man and his needs because he has been at the bottom and understands hardship as well as affluence.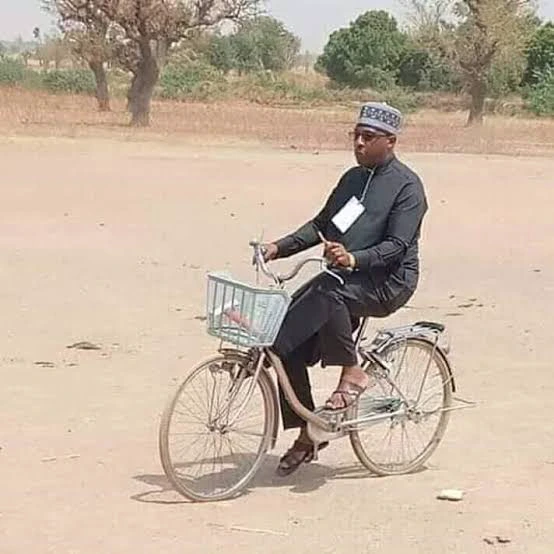 As the 2023 General elections draws closer which promises to be a tough contest between the big, strong and mighty with outstanding educational, economic and social achievements on records and in papers, one may need to think very hard before making any choice out of these Giants of the Nigerian politics.
Although no one is talking about this governor and considering the fact that the issue of zoning the presidency is coming in hard, Nigerians might not want another president from the northern Nigeria just yet, but professor Babagana Zulum is one man who would not be rejected by Nigerians if selected to be the flag bearer of any party for the 2023 general elections.
Nigerians love him and irrespective of where you're from whether north, south, east or west, this man holds great potentials still left to be harnessed and what better time do we need a compassionate, loving, hardworking, goal driven, result oriented, time conscious and intelligent president like professor Babagana Zulum.