Aisha Yesufu has again taken her time out to slam Aliko Dangote who is today regarded as the richest black man on earth. Aisha Yesufu is one woman who always speaks out her mind not minding who is involved.
According to a tweet she made earlier today, she made it known that she use to say that Aliko Dangote is a poor man in a rich man's body. Moving further, she stated it that poverty mentality made him to be using predatory pricing to bring down many businesses in Nigeria, instead of diverting to other countries.
She went on and stated that instead of him diverting, he was busy clenching to turf in Nigeria when the world was his playing field.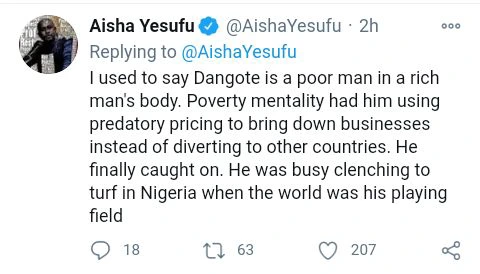 Looking at what Aisha Yesufu has just said here, you will see that she has a point. It's true that Aliko Dangote has taken some of his businesses to some other African countries, but Nigeria is still his major market. He makes most of his money through monopoly.
Just like Aisha Yesufu said, he should go to other countries and see how he can thrive in those countries, once he does, we will know that he is indeed a great business man.