Nigeria Politician, poet and lawyer and a member of the People Democratic Party, Femi Fani Kayode have come out to warn Nigeria about the second wave of corona virus that looks imminent in Nigeria.
The Politician posted on his Twitter page, "It is no longer news that we are going through a second wave of Covid 19. What is news is that with this particular strain of the Chinese disease people contract it, fall ill & usually drop dead just after two days later unlike before when it usually took two weeks. God help us."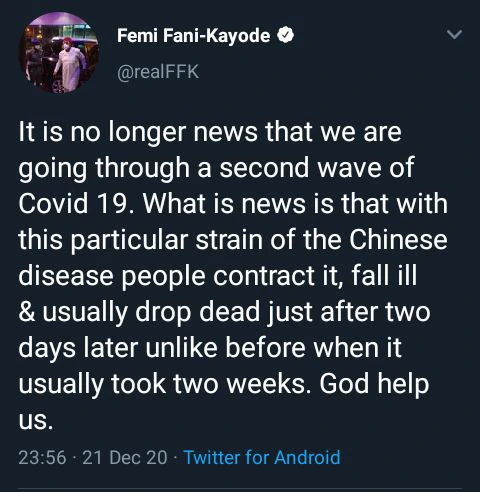 As the second wave of corona virus looks imminent, the Nigeria government have been putting in place some preventive measure as they order the closure of bars, relaxation centre, club, Churches and mosques across Nigeria.
Nigeria have also experience increase in it's covid 19 cases in the past days compared to the one that they have been seeing in the past months.