Ole Gunnar Solksjaer has made a statement after Manchester City beat Manchester United in the Carabao Cup semi final.
Manchester United failed to reach the finals of the Carabao Cup as they lost 0:2 to their noisy neighbors Manchester City. The Red Devils were humbled by an excellent City team which won against Chelsea last Sunday with goals from John Stones and Fernandinho, both from the second half. So much was expected from the United team as they have enjoyed a long winning streak in the league but it looked to be a different ball game as Pep Guardiola got it right with his tactics. 
Reacting to the result, Manchester United coach Ole Gunnar Solksjaer has blamed his team's lack of quality and creativity as the reason why United lost the match. According to BBCSPORT, Ole Gunnar Solksjaer said that creativity was absent in the team as they had much of the ball but could not do much with it. With Edison Cavani absent from the team, Solksjaer has also highlighted this as a reason for not being able to score goals even though City scored twice. 
Below what Solksjaer said.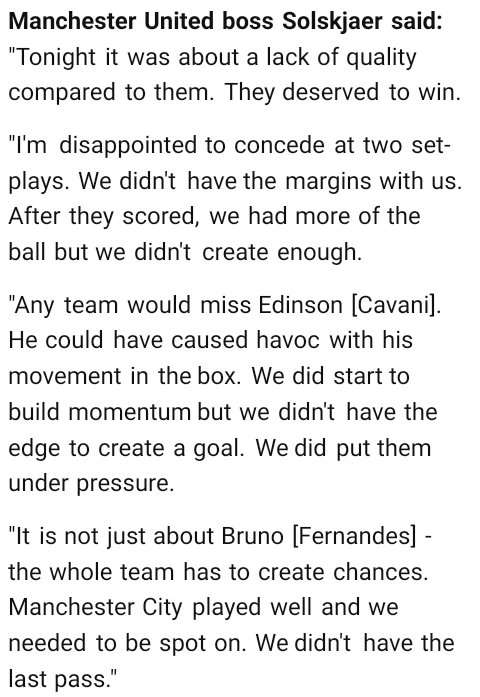 The Norwegian also acknowledged the work rate of star player Bruno Fernandes but however stated that the whole team must look towards creating chances and it should not be about a single player doing all the work.