In as much as every young Nigerian wants a better life and will jump on the first opportunity he or she gets to leave the country yet, travelling out of Nigeria especially to advanced countries like china, Japan, Canada, UK, USA and so on is the most challenging and money consuming venture anyone could ever think of dareing.
Before traveling to Europe especially to top tourist destinations like Canada, UK or USA, one must fulfill some certain criteria such as writing and passing an IELTS or TOEFL examination as a test of English language before that individual can be granted either a student or work visa, except in very rare cases such as tourist or visiting visa.
Recently a very popular controversial Nigerian American journalist Dr. Kemi olunlowo went to her verified twitter handle to advice all nigerian youths to find there way legitimately out of Nigeria in search for greener pastures.
Kemi Omololu-Olunloyo is a 56 years old Nigerian journalist, blogger and activist.
She alleged that the buhari administration has nothing for the youth.
See the tweet below.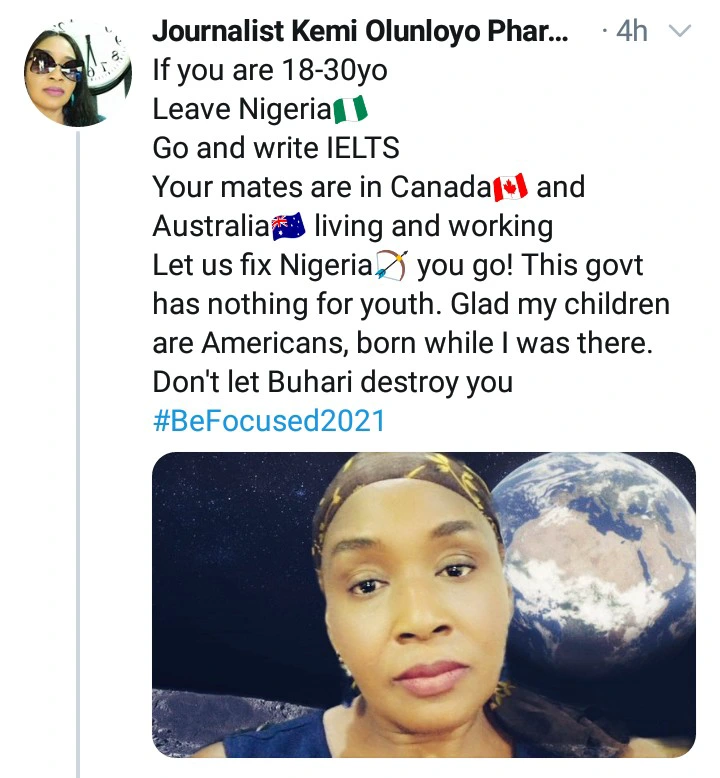 The popular Nigerian journalist is controversial and has been linked to licking some top government secrets and breaking news.
On March 14, 2017, legit news reported that Kemi Omololu-Olunloyo was arrested by men of the Nigeria Police Force over a controversial statement she made earlier in March about ex-President Olusegun Obasanjo and was held in a Port Harcourt prison on the order of the Inspector General of Police over her story of actress Iyabo Ojo and Pastor David Ibiyeomie in adultery mess.
She has since been released in thesame year.