Nigerian Political activist and Convenner of the Revolution Now Omoyele Sowore has taken to his Twitter handle to mock the relationship between President Muhammadu Buhari and former President Goodluck Ebele Jonathan.
According to the Sowore " Jonathan has become Buhari's House boy, he must be so happy that Buhari is so terrible that he makes him (Jonathan) looks good, showing appreciation always.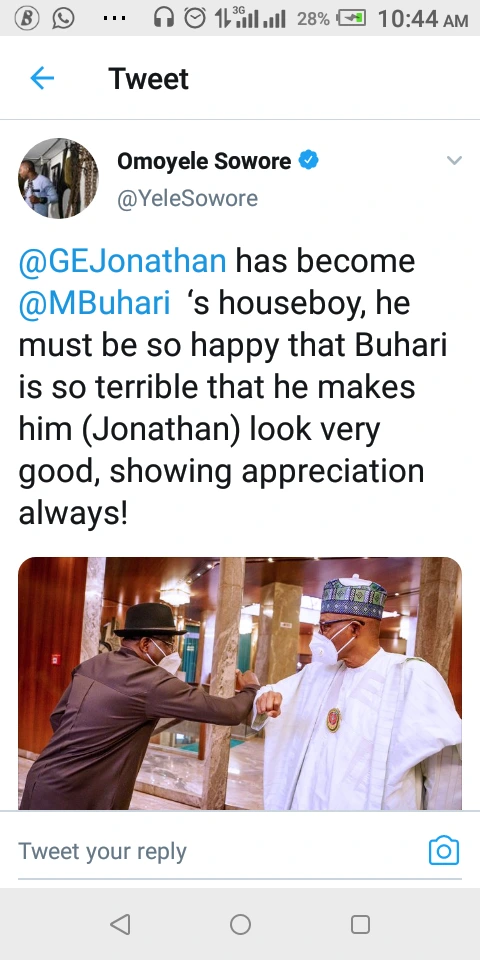 You will recall that the now president Muhammadu Buhari was always antagonizing former president Goodluck Ebele Jonathan when the later was president. However, Jonathan has decided not to pay Buhari back with the same coin. He has chosen rather to be of help to the President instead of running him down. This is what is not really going down with Sowore as he was a very big critic of Jonathan and wanted him out by all means back in 2015. Now, that President Muhammadu Buhari is in power Sowore has also not failed to show his disgust for the president.
The relationship between these two former foes annoys Sowore, he calls Jonathan Buhari's House boy for going to Aso Rock every now and then. He is of the opinion that Jonathan is happy because Buhari's no doing well in governance.