Former Aviation Minister Femi Fani-Kayode took to his verified Twitter handle to reveal what a serving British Minister told him recently during one of their discussions.
In the tweet which he made on Saturday morning, Femi Fani-Kayode said that last night he spoke with a serving British Minister who was with him at Cambridge some years ago, and the British Minister told him that Nigeria must remain together at all costs.
The reply he said he gave to the British Minister appears a bit funny. He said his response to him was that before he lectures him on the unity of Nigeria, he should let Northern Ireland reunite with Ireland, grant freedom to the Scots, apologize to India for the centuries of abuse and oppression, apologize to Africa for enslaving their continent and destroying them, apologize to China for the Opium Wars, do away with the British Commonwealth, and also stop trying to trigger the World War 3 with Russia. He said when he told him all this, the man dropped the call.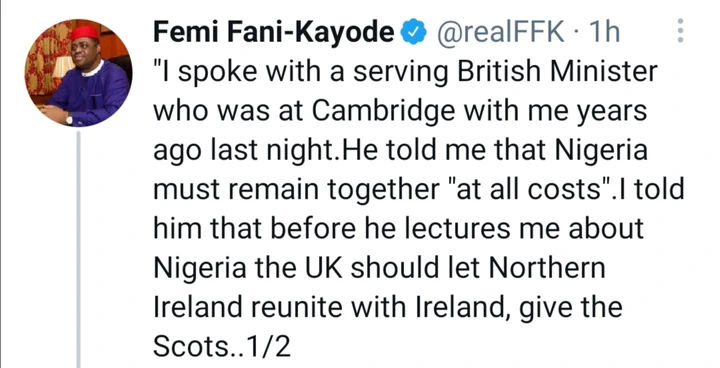 FFK's conversation with the British Minister is coming at a time when the Nigeria is being rocked by tensions surrounding secession. In recent times, there have been cries of marginalization and lack of a sense of belonging from some quarters in the country, with some persons feeling that their region is not getting proper representation in the system, or is not benefitting enough from the polity.