The Nigerian relationship therapist and controversial Blogger, Blessing Okoro Nkiruka has revealed shocking reasons why men need side chicks in their marriages. Okoro, the mental expert, a storyteller, and the founder of Break or Makeup Relationship Blog where she shares messages all that relates to woman Empowerment and Domestic Violence.
Miss Blessing made this known on her verified Instagram page @officialblessingceo where she posted: "Without side chicks, some marriages would have been long dead. Side chicks makes married women sit up, without them, some married women would have turned into palliatives for their husbands' houses".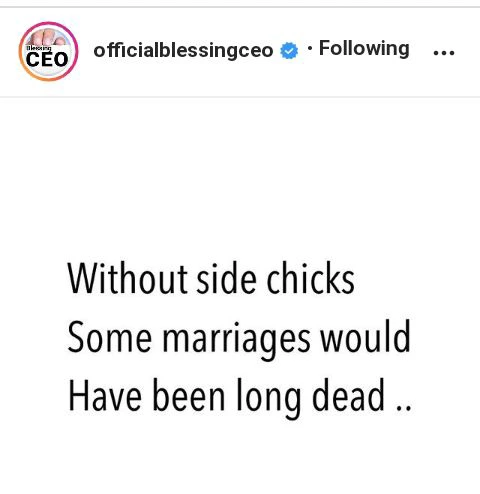 However, many internet users have been reacting to this claim by the relationship expert, some are corroborating her assumption while some were with the contrary opinions and some were even attacking her, while reacting:
@funmi_adenike reacts: It's the truth. And that's why most men don't work on the problems in their homes because they get satisfied outside. Most men don't ask for divorce anymore, those side chicks are their copying mechanisms.
@lingaglittterz reacts: Unfortunately, most of these motivational speakers are failures taking advices from them is like repeating their mistakes; you all try your own adventures biko.
@kwin_missy reacts: Trust me Blessing, you need a man. A man that won't hurt you again, you post out of hurt. Love is a beautiful thing. Side chick has no place in a man's heart. And you know so, you are someone's side chick that you keep throwing shades at married women, you wish to be in married woman's position, it can still happen though, just stop posting out of jealousy or something.
@kachiukwuoma reacts: This is coming from someone who failed in her marriage; I pity those that take them serious.
@emmanuelesin3 reacts: I remember telling somebody that this lady is senseless, so I am happy now that she is continues to vindicate me.
Meanwhile Blessing Okoro, a 31years old single Mom of 2, has once revealed that she got married to her first husband (who was 12 years older than her) at the age of 18., the marriage lasted for one year and six months before she divorced with her husband, she attributed her marriage to domestic violence. She further stated that she has had four men in her life before she decided to quit the marriage institution.
Fror her life's experiences known to many people, some did not take her advices serious because they believe she is doing that out of jealousy of not being under a good husband.