One man who has maintained a strong support and faith in president Donald Trump despite loosing the 2020 United States presidential election to his main rival, Joe Biden, is Femi Fain-Kayode. He is a politician and an activist who is popularly known for short as FFK.
He has been a strong supporter of Donald Trump even before the election, and he is one of those people believes that Trump is the right man for the job. Recently, he posted an update on his Twitter account claiming that president Donald Trump will be sworn in as the 46th president of the United States of America on the 20th of January, 2021. In that tweet, he described Trump as a courageous man with strength and faith, and ended the tweet by claiming it is God's will for Trump to be president, and the word of the lord shall stand.
See what he said below.
"Such courage, strength & faith! What a man! What a leader! What a President! Donald Trump WILL be sworn in as the 46th President of the U.S.A on Jan. 20th 2021. Mockers may mock & haters may hate but the word of the Lord shall stand. The Lord has said it & so it shall be."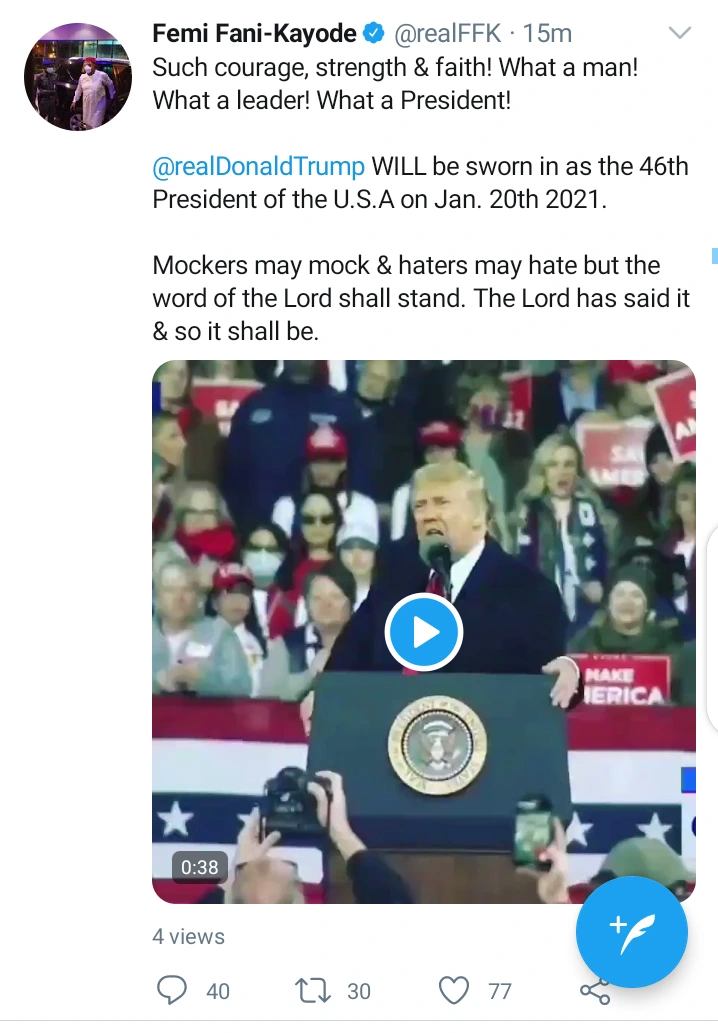 As you might have known, Trump Lost the US presidential election to Joe Biden by a vote margin of 306 electoral votes for Biden, to Trump's 232 electoral votes. Trump believes that the election was fraudulent or rigged against him, and thus he has been on a quest to challenge the results of the election legally in court to proof that he won the election as he has maintained since the results of the election were released.
Many of Trump supporters have given up on hopes of Trump winning the legal battle, but a few of them have maintained a strong faith that Trump will remain president of US, and one of such persons is FFK. Like FFK, many other persons believes that Trump is God's choice on who will lead the people of America, and that is why he has remained fervent with faith that Trump will emerge as the winner despite the way things are looking currently.