Controversial pastor and activist, pastor Reno Omokri has taken time to advise young and religiously active men on the choice of wife to make when they are finally ready.
Normally, the narrative is that known religious men especially in the Christiandom (also known as Church boys) are often known to find their wives among the religious women (Church girls) as they are believed to keep their men's fire burning.
They wouldn't want to marry a woman who is going to quench their fire for the kingdom of God, they wouldn't want anything in common with those they call "of the world", they wouldn't want to deal with those they they assume do not have the holy spirit.
But flowing against the tide, Reno has taken time to advise these church boys, urging them to marry beautiful women and then teach them how to pray. He said it will be easier for a woman to learn how to pray, how to draw near to God than learning how to become beautiful.
"Remember that beauty in this context is not all about physical appearance only, but women with a beautiful personality, good manner, tidy and socially responsible". Not those who have very bad attitudes, irritating personalities, zero attention to personal hygiene but can pray heavens down.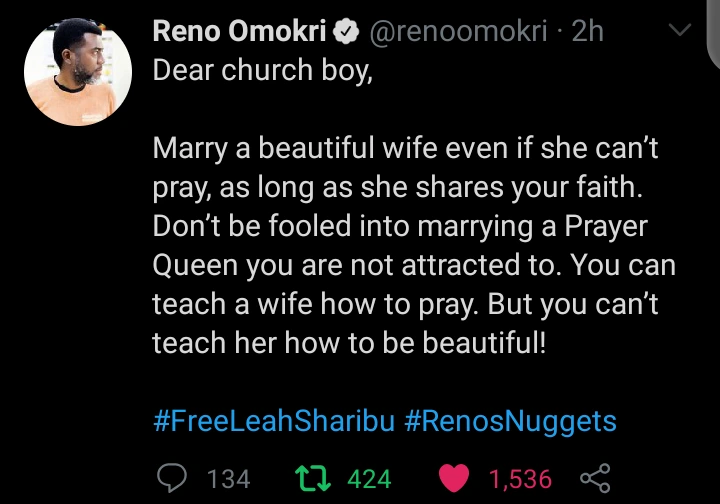 Explaining further, he said it is good for a man to marry someone who can satisfy him physically because such man also has better chances of doing better in the things of God.
After he was attacked for preaching beauty over godliness, he came back to defend his tweet. He maintained his stand, that because beauty fades does not mean it won't be put into consideration.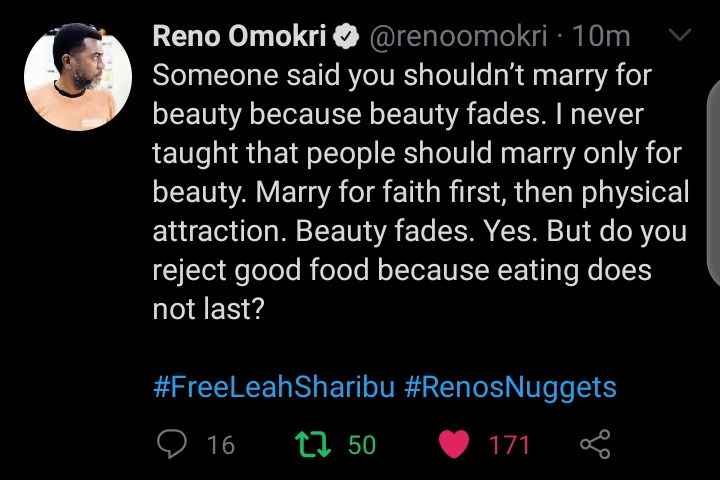 This is really an interesting topic because it has caused more harm than good. Men who married women they are not physically attracted to simply because she sleeps in church, is involved in the works of God and is always active in every religious activity.
Most of them got disappointed after these women could not fulfil their physical obligations towards their husbands and it has broken many homes and marriages, has left many in regrets, others in secret sins and the rest in dissatisfaction.
Don't forget that religiousness and godliness are two different things.
What would you say about this?