Reno Omokri has dropped an important message for those who have grandfathers and grandmothers but have left the path of caring for them.
It has become normal for most young people to desist from showing love to their grandparents due to alot of funny excuses. A good number of children have grown up to adulthood without knowing how their old parents look or even where they reside. Normalcy has also been aligned with the opinion that some of those old people are evil and poses attributes of witchcraft. Westernization and evolving civilization has also made many youths to abstain from seeing their aged parents while others may have reasons related to work. 
However, this issue has been laid down by a very popular person who feels it should be addressed. Reno Omokri who is Gospeller and a human rights activist has encouraged youths to make out time for old parents who looked after them while they were toddlers. According to a Twitter post on his verified handle, Reno Omokri said to youths that visiting aged parents should not be a thing of slowing down their life affairs as they may feel so. According to him, these same parents are the ones the youths slowed down when they were infants and so a visit to them should never be too much. Below is what Reno said.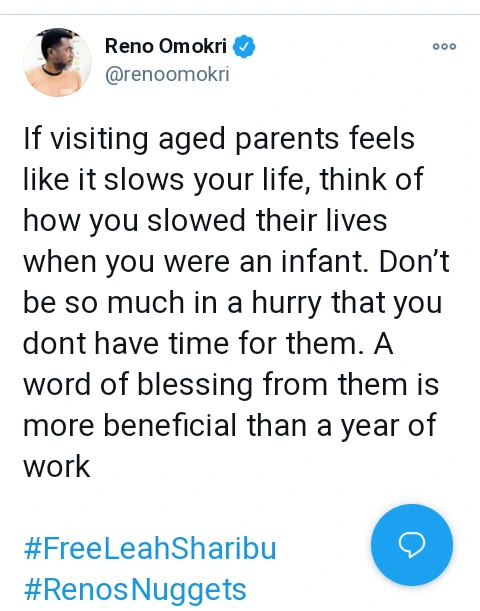 He further said that a word of blessing from old people is more beneficial than a full year of hustling. Many youths reacted by dropping pictures of themselves with their grandfathers and grandmothers and one can really testify about how good the smiles on the faces of the old ones are.