Popular investigative and controversial journalist, Kemi-Olunloyo, has drawn the attention of President Muhammadu Buhari's administration to an ignored but a life-saving action that would definitely save the lives of millions of Nigerians if acted timely on. 
She has called the attention of the federal government to a second wave of COVID-19 pandemic that is fast taking a dangerous dimension among countries of the world. World Health Organization and indeed, many countries have been announcing second waves of COVID-19.
Many countries have taken decisive action of another lockdown while others are currently taken proactive measures that would the lives of their citizens. Yet, Nigerian goverment sees, hears and reads daily about a resurgence of this deadly virus called COVID-19, yet pretends as if nothing of such is going on. No one prays that for a repeat of March lockdown that lasted for 6 months with its devastating effects on our economic, social, and human capacities.
In view of the above, Kemi-Olunloyo has warned the federal government not to let down their guards until things degenerate to levels beyond repair, and she is calling our government to act now before it is too late as a popular saying goes, " a stitch in time saves nine.
In her warning message, she said: "Israel closes border to foreign citizens traveling from the UK, South Africa, and Denmark due to coronavirus mutation. Germany has now banned all UK flights Ireland has banned flights and passenger ferries from the UK, Bulgaria and Latvia have banned UK flights banned in Austria, the Netherlands, Italy, and Kuwait, Belgium closing border to all travelers from the UK for at least 24 hours while deciding what to do on this disaster. Aso Rock is still SILENT! UK🇬🇧 is our most frequent destination."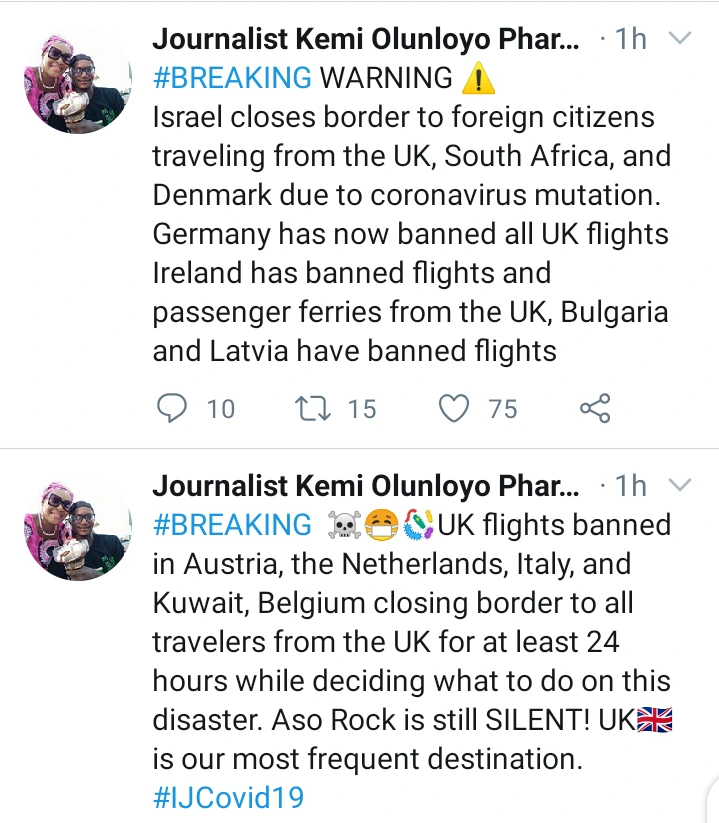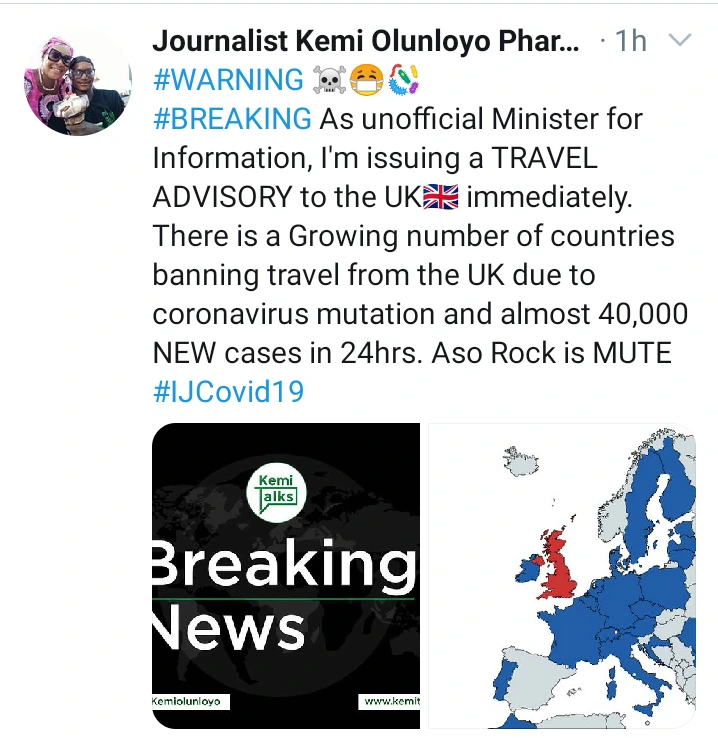 She said some countries have banned flights to or from or both from UK due resurgence of the virus. She also stated that other countries with or without rising second waves of the have banned flights from some countries. Countries like Israel, Germany, and Belgium have placed travelling bans other countries with resurgence. She made a specific reference to UK being one of the most preferred destination for Nigerian citizens, urged the federal government to act urgently to atleast ban flights UK which appears to the worst hit among the European countries she mentioned being travelling place for many Nigerians.
Going by the journalist's warning, the recent figures released by Nigeria Center for Disease Control(NCDC) proves her right in away.