One Twitter user @machaballidon has digged up an old newspaper where Bola Tinubu said that he doesn't believe in one Nigeria. The newspaper dated April 13, 1997 contained in a bold print where the South western leader made the statement.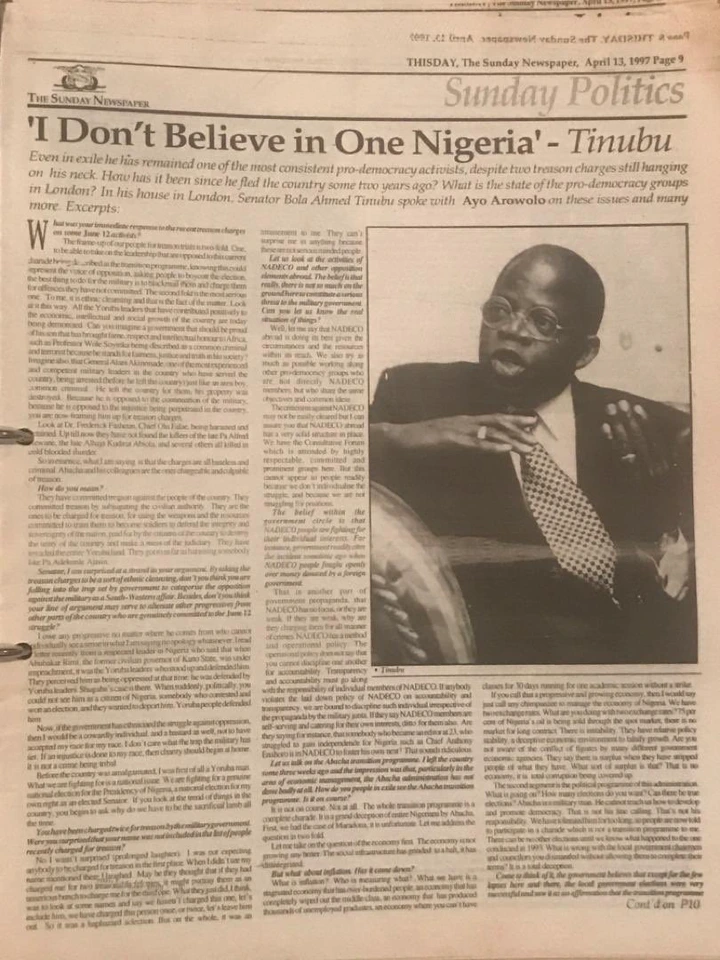 This was coming after Tinubu made the call to those calling for Nigeria's breakup to sheath their sword and embrace one Nigeria as the idea of Nigeria's breakup will not be acceptable to them.
According to him, Nigeria cannot afford another war because the effects of the 1967-1970 civil war are still felt in the country even to this moment.
He made this statement at a special Ramadan prayer held in Lagos on Sunday where he said that God will never allow the break of Nigeria because it might lead to another war which the country is not prepared to face at the moment.
He also said that his experience of war in the past has taught him a lesson and he don't pray for Nigeria to experience such again.
Nigeria will not separate, it's not acceptable to us. Our prayer is for property and more wealth for the country, he said.
This angered many Nigerians who went to his past and dug up his article on Thisday News paper programme known as Sunday politics dated April 13, 1997 where the same Tinubu expressed his concern for the one Nigeria saga and publicly said that he doesn't believe in it.