Aisha Yesufu wrote on twitter today that what will come out from the nuisance value of Buhari Presidency is that Nigeria might separate.
She said, it is glaring that Nigeria needs to have a conversation on whether to remain as one or go it's separate ways. I am okay with seeking for visa to Kano, Lagos and Enugu, she said.
With the way our country is going, some people are agitating for separation of Nigeria so that they can manage their own resources, fight and defend their people as the Government has failed in their leadership and bad governance has become the order of the day.
People are scared of their lives because the Government have failed to provide security for the people and things are falling apart in Nigeria.
Insurgents have made lives unbearable for people as they can't travel or go to farm. They have over powered our country and our leaders are clueless on what to do and they have failed to seek for professional advice to crush insecurity.
Buhari administration is only good at heaping blames on the past administration and the worst thing that has ever happened to this government is always listening to regional and religion sentiments before choosing their administrators without considering the person's capability and competency.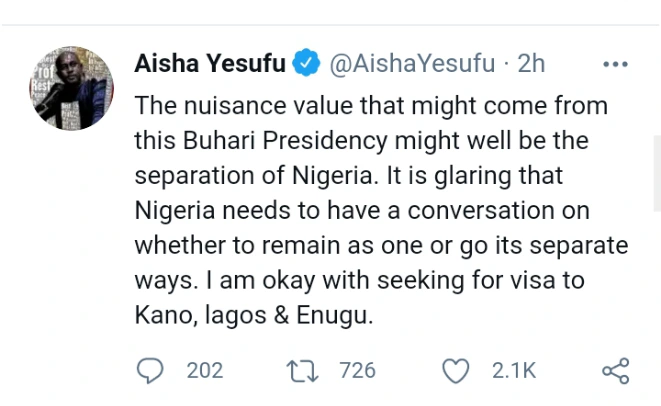 Indeed, our country is in big mess.