Donald Trump has taken to twitter to express his pain after 8 republican senators allegedly betrayed him.
The President of the United States of America, has been making series of claims concerning election fraud in the just concluded elections, but there have not been any concrete evidence to show for it.
While taken to twitter, where her usually makes his comments concerning the election, President Donald Trump, who himself is a Republican, said that at least 8 Republican senators (in the same party with him) he saved from losing, including one named Mitch, have now all decided to sit back and watch him fight his battles alone. He referred to this fight as one against a "vicious and crooked" enemy, and admitted that he won't forget.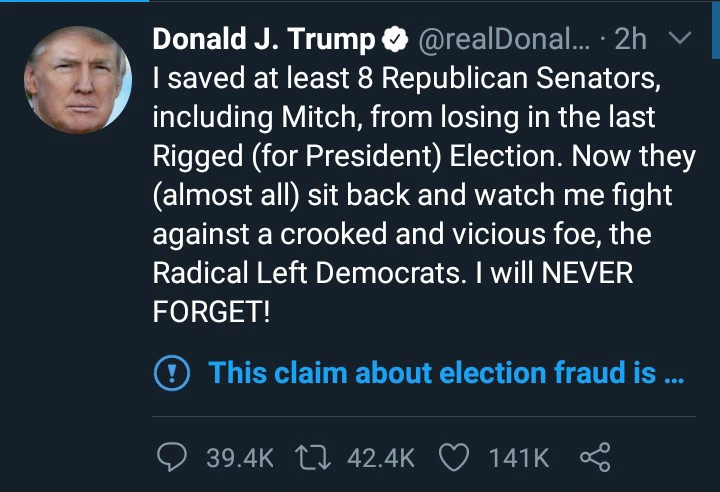 In a separate tweet, the very outspoken President of America, Donald Trump also lashed out at social media platform twitter, calling them out for flagging his posts. He said that they are going wild, trying hard to suppress the truth, and that shows how dangerous they are.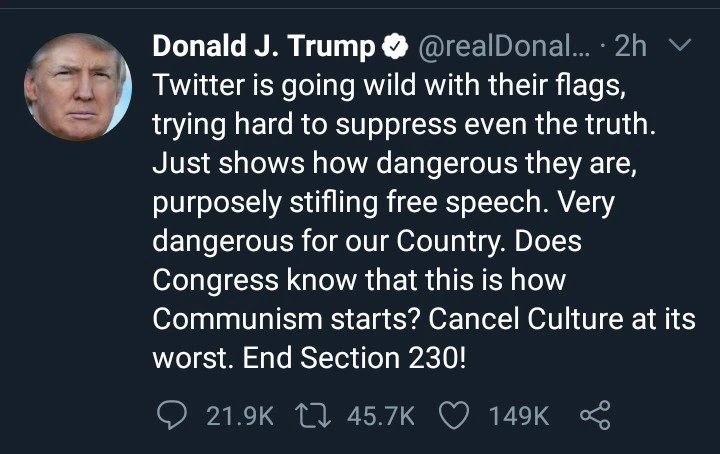 Donald Trump further went on to say that the action of twitter is dangerous for the United States, and that they are trying hard to stand against freedom of speech.
He ended by asking if the Congress knows that this is how communism starts, and challenged them to end section 230, a communication decency act in America, which provides immunity from civil liabilities for information service providers like twitter, that restrict content from their services which they think is obscene, excessively violent, unproven, or otherwise.