Nigerians and politicians in the country have started planning and having closed door meetings over the 2023 general elections. There have been arguments and talks about which region of the country has a strong claim to the presidency.
A Yoruba man has taken to his Twitter page to advice the Igbo people on what to do to ensure that a person from their region emerges the next president of this country.
According to the man named @thebardogbamola, the Igbo people are very powerful but they don't realize it yet. If the Igbo traders can be able to contribute N10,000 each for Peter Obi, he would have over N10 billion for the 2023 election.
Peter Obi is the former executive governor of Anambra State. He was the running mate and vice presidential candidate to Atiku Abubakar in the 2019 presidential election. Recently, there has been talks that Peter Obi should run for presidency because the Igbo region is yet to produce a Democratic all elected president.
@thebardgbomola who is a scriptwriter and public speaker by profession said that the Igbo people should learn to put their money where benefits them. He alleged that the Miyetti Allah cattle group sponsored the election of Buhari because they know it would benefit them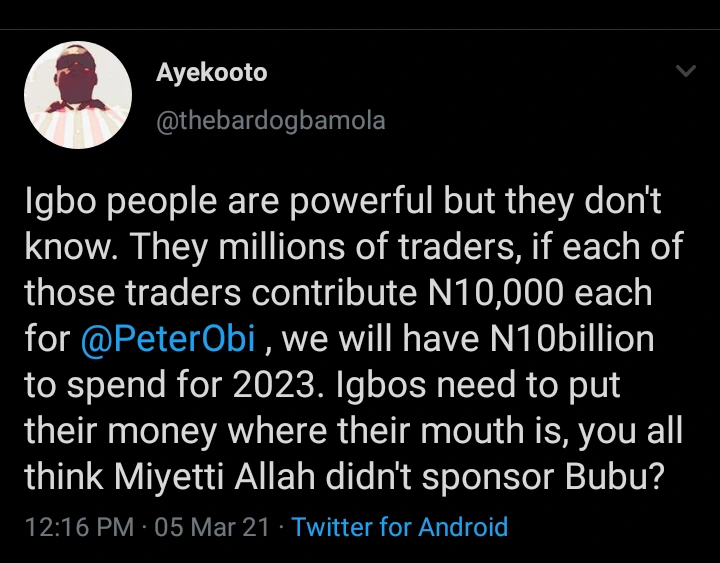 What he's trying to say is that, the Igbo people should come together and sponsor a trusted candidate who would run for presidency. Instead of waiting till the presidency is zoned to them, it is better they get it themselves.