Nigeria is currently in its perilous times. The citizens are indeed not happy with the insecurity issues, they are currently clamoring for the federal government's intervention in the northern part of Nigeria as insurgencies looms all over even in the broad daylight. Many nationalists and activists have taken this as the best moment to enlighten the citizens on the need for good governance.
One of the most outspoken people in this era is Reno the wise Son of Omkri who has taken it upon himself to make sure that the citizens are well enlightened on the happenings and insurgencies in the nation by revealing things hidden from the normal sense.
in a recent tweet made by the wise man, he expressed his dissatisfaction with the president's action after a group of young children were abducted in Kastina state, which the president failed to pay a condolence visit even while he was within the axis of the state but was rather spotted attending to his cows.
According to Reno Omokri
"24 hours after Chibok happened, then-President @GEJonathan convened a National Secretary council meeting.
24 hours after hundreds of kankaraStudents were abducted, General # Buhari went to inspect his cows.May God save Nigeria from Buhari"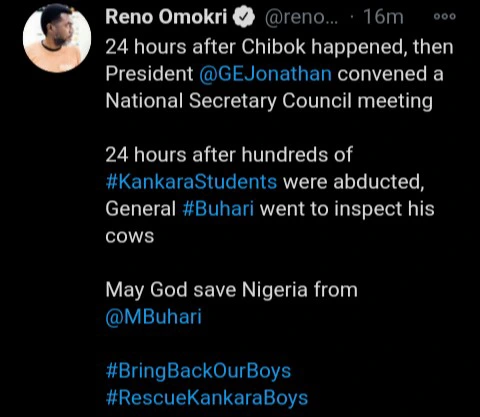 Reno was indeed not happy with the presidents actions as he believed the president ought to have visited the affected area by now.The cityzens are probably not happy about this also.The father of the nation spotted visiting his cows at this chaotic moment doesn't just tell well.
But I also believe the president has his reasons for not visiting up till this moment,I probably guess the security within the affected region is quite loosened so he is waiting for things to be a little calmer before embarking on a condolence outing.This is just an opinion though.
What is your opinion on this?