The Inspector General Of Police, Mohammed Adamu was supposed to take a bow out of service on Monday, February 1, 2021 on account of the fact that he has spent 35 years in active service to the country Nigeria, but he is yet to be replaced by a new Inspector General of Police and as the tension is heightened, Nigerians have made some suggestions of those who are to take over from him. These men include DIGs and AIGs who have been in the service for quite a number of years.
While others are making suggestions of possible people to take over from Mohammed Adamu the Human Right Activist, Deji Adejanju believes that of President Buhari appoints an Igbo man as the new Inspector General of Police, it will serve as a way to silence his critics.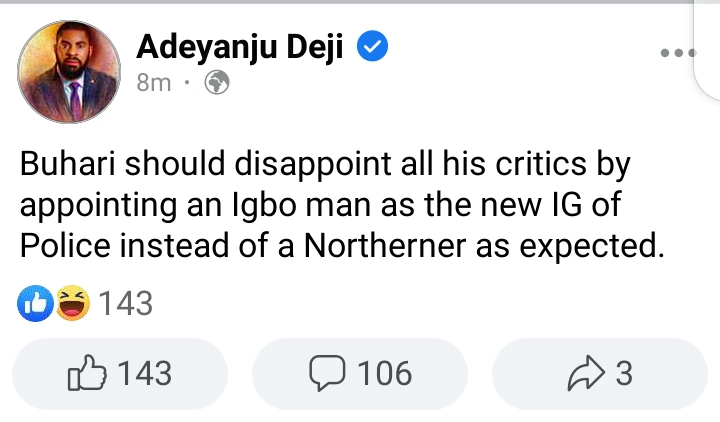 He wrote on Facebook; "Buhari should disappoint all his critics by appointing an Igbo man as new IG of Police instead of a Northerner as expected."
According to him, it will be a big blow to the President's critics if he appoints an Igbo man as new IGP judging from the fact that Mohammed Adamu has reached his retirement age in office. There is no doubt that the new IGP will either be from the north or the west, but Adeyanju Deji is challenging Buhari to appoint an Igbo man.
He probably said this due to the agitation of some Igbos for Igbo Presidency come 2023 and for those seeking Biafra Referendum.
Some Nigerians have reacted to this as they have said that even if he appoints an Igbo man as new IGP, that will still not satisfy some Igbos who have made up their minds to be part of IPOB.