Following reports of a second wave of End SARS protests soon to commence, the government through multiple outlets cautioned against any form of participation by the citizens of the country. The president of the Republic Muhammadu Buhari warned the people planning to engage in any form of street protests that they would be met with forceful action from the military of the country.
The government ordered the deployment of its military personnel to the streets to curb the protests. The protesters however defied the warnings of the government as the protests are reported to have commenced in some parts of the nation today.
Following the commotion, Senator Dino Melaye has advised the Commander in Chief to desist from the usage of force while trying to get the protesters to back down. The controversial senator wrote on his twitter page "My advice to President Buhari on threats to EndSars protesters. Though force can protect in emergency, only justice, fairness, consideration and cooperation can finally lead men to the dawn of eternal peace. Protests is an inalienable right"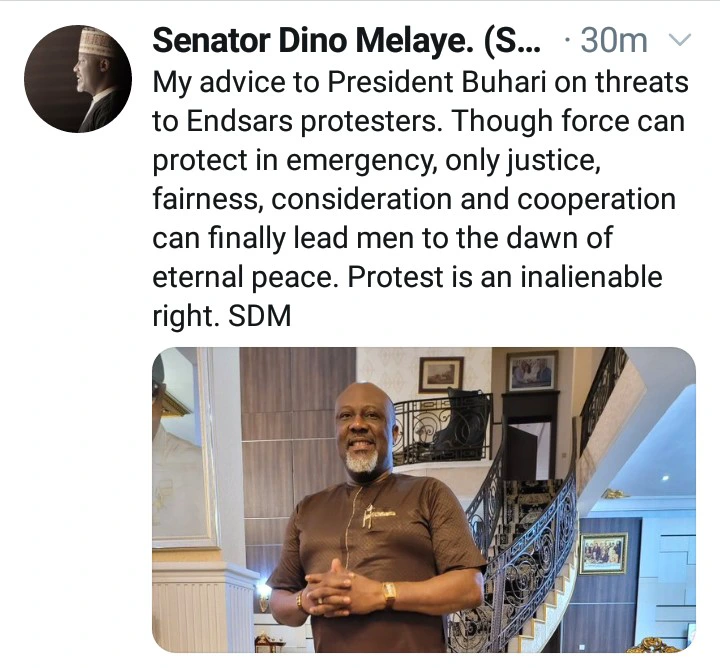 As such, the people have the right to demand better governance and leadership from its government if found lacking on the above attributes. That was exactly what the citizens of Nigeria did just over 2 months ago. There were peaceful protests by the masses predominantly the youths calling for the disbandment of the infamous SARS. Despite the name given to the campaign 'EndSars', the aim of the protests wasn't just for the dissolution of the elite police unit but also for the adoption of better ruling policies by the government. While the government eventually bowed and disbanded SARS, the inadequacies in the policies governing the nation weren't attended to.
Two months after the End SARS protests brought the nation to a standstill, the masses have risen once again in preparation for a second wave of protests. The reason being that the quality of governance is still poor and hasn't developed since the end of the first wave of protests.
Dino Melaye's advice to the president is the best option to remedy the situation. The government should listen to the needs of the populace. That is what democracy means.