It no news that many Nigerians took it upon themselves to call out the Chief of Army Staff, Lt. Gen. Tukur Buratai, after he was seen playing golf despite the worsening insecurity across the country, with some clamoring that he has lost interest against the fight against boko haram and have decided not to drain himself by having some fun after most of his combat tactics against the dreaded group have failed to end their reign.
Boko haram have been a thorn in the flesh of Nigeria as a country especially the northern part of the country. And the major question Nigerians have always been asking are who are their sponsor. But while the main truth about their sponsor is yet to be fully uncovered, many Nigeria believe that most of their sponsor are those holding top government offices as seen in the case where, a Nigerian government official "Alhaji Ashiru" was indicted by United Arab Emirates on the account of facilitating the transfer of misappropriated public funds to the dreaded boko haram group. This has also clarified the fact that the dreaded group are getting some advantages from the corruption that has prevailed in the country.
However to this, Dino Malaye have come out to urge President Buhari to scrutinize those holding government offices especially those holding top offices and those who deflected from PDP to APC so as to curb corrupt practices in his government as seen in his tweet below.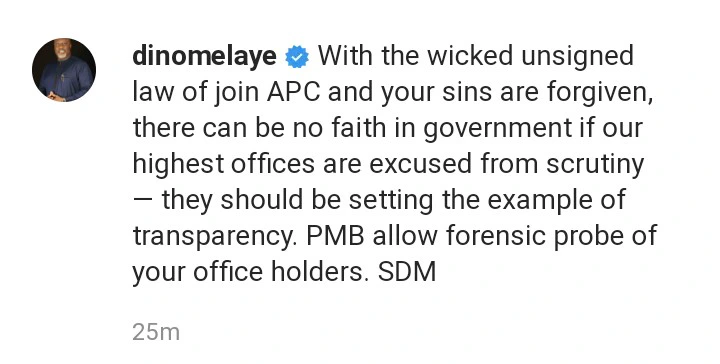 What do you think about this?