A human right activist and a top Campaigner of BBOG, Aisha Yesufu has once again decided to speak. Aisha Yesufu is a woman filled with courage, as she always speaks out when their is the need. In a recent tweet she made, she decided to respond to the current plan of the NCC to block all the SIM cards that are not linked to the National Identity Numbers NIN.
According to Aisha Yesufu, she made it clear that she is not borthered at all as it regards to that. She went on and stated that she is patiently waiting for them to disconnect her number.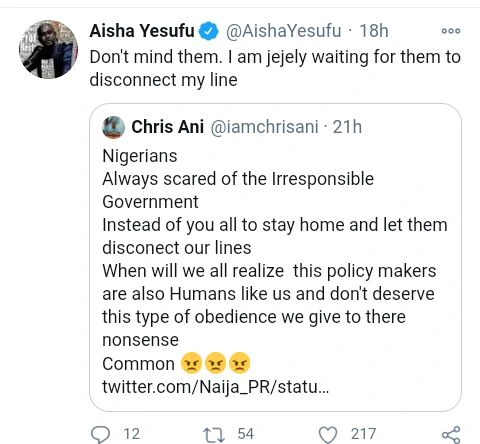 It was on the news yesterday regarding the number of people that came out yesterday to get their National Identity Numbers NIN at Lagos, despite the high rise in the cases of COVID-19 in and around the country. Nigerian government need to think well before they implement some certain policies. It was the same government that is warning against overcrowding still forced people out to go and register and get their National Identity Numbers. May God help us in this country.