As Anambra State hosts one of the hugest burial ceremonies in African today, the Igbos has shown that they should never be looked down upon, as they can do the almost impossible.
Obi Cubana, a popular multi-millionaire businessman, entrepreneur, show promoter and full-fledged Igbo man, is hosting the funeral ceremony of his mother, Ezinne Iyiebu, who died in December 2020, today. The events taking place at the burial has shown that it is going to be a mega one. Notable men and women like Kanayo o. Kanayo, Ubi Franklin, Emeka Okonkwo and others graced the occasion.
Fleets of exotic cars, private jets, gifts have arrived in the state as his friend and associates show their support for him.
The Igbos are hard-working people: the Igbos are very hardworking people, who put their best into anything(business), they find themselves doing, men like Obi Cubana are very hardworking people who are known to accumulate wealth silently and never blow their horns except need be. An Igbo man might be a Multimillionaire and still be going on with his normal daily hustling without showing off his wealth unnecessary.
The Igbos are United and always Supportive of each other;
one of the unique qualities of the Igbos is their love for each other, they never allow envy to come between them. An Igbo man can stand with his brother through thick and thin without even wanting anything in return; A typical Igbo man sees his brother's problem as his own. Obi Cubana couldn't have pulled off this mega burial ceremony without his friends and associates who stood by him and supported him both financially and emotionally.
The Igbos are giving people; Obi Cubana who lost his mother in December has received gifts running into millions from his wealthy friends. Among these gifts is a large number of cows, numbering 246. His backyard is now turning into a cattle range.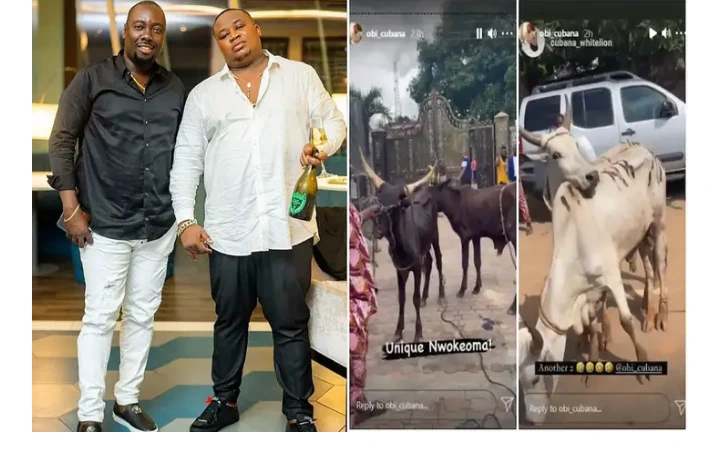 One is his closest associates, Cubana High priest reportedly surprising gave him 46 cows, just for his mother's burial. The Igbos have proven that they are not stingy people as they have been called in the past.
They are determined and resilient; the good are known for their determination, they are so determined that nothing can stop them from achieving their goals; whether it's becoming a multi-millionaire from selling clothes and shoes or throwing a burial party that will be the talk of the town and always be remembered