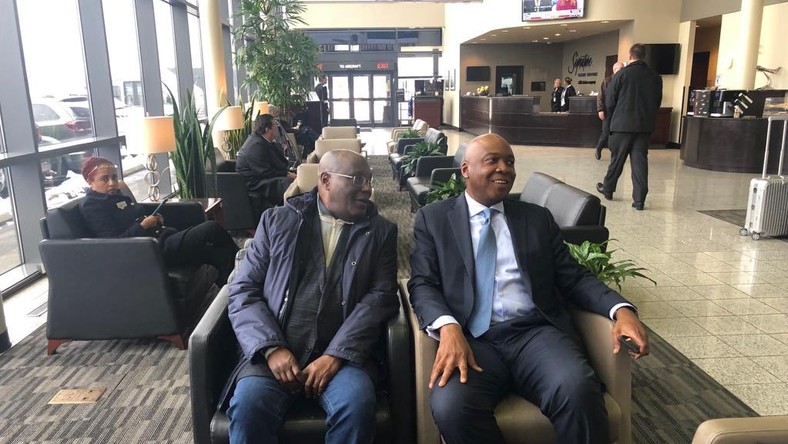 Yesterday, the Presidential candidate of the PDP, Alhaji Atiku Abubakar visited the United States, over a decade after he was blacklisted, watchlisted and barred from visiting the country due to alleged involvement in corruption. The ruling APC had used his inability to visit the US for campaign, with the intention of magnifying the moral burden that he bears.
However, in a swift suspicious manner, senior US officials made a u-turn, issued Atiku visa and arranged a meeting with the "Blacklisted corrupt politician". Lodged him in a prestigious hotel owned by the President of the US. In the US, Atiku has already met with Chris Smith, the Speaker of congress.
Note that this visit is coming shortly after Smith held a public hearing on Nigeria's elections, where he lambasted Buhari over some purported challenges facing the country. The visit also comes after some International media platforms, foreign NGOs, Etc reeled out statistics in a bid to project the administration negatively.
Why is the US interested in Nigeria elections? Why are they attempting what they accused Russia of doing. By issuing visa to Atiku, four weeks to the elections, the US have attempted to take away his moral burden, purge him of his corruption allegations and make him marketable. They have tacitly endorsed him and may deploy machinery to assist him win the poll. They are all out to subvert the will of the Nigerian electorates.
Are the US interested in the sale of NNPC? Because Atiku promised to sell NNPC and the next day he's in the US. He promised to make his friends rich and business groups in the US are scampering to meet with him.
Only Nigerians can elect their leaders. Nigeria is a sovereign state and must not subjugate her independence.
INEC must resist pressure from foreign government to influence the outcome of the Presidential poll. I know Prof. Yakubu had severally met US officials in Washington, our hope is that the meeting was not for sinister purposes. Votes must count. Nigerians should be allowed to elect their leaders. Any form of foreign interference must be resisted by all well meaning Nigerians.
Michael Franklin; a retired diplomat wrote this piece from Maitama , Abuja.